At Bentonville

We Love Our Campers
Featured Campers
We LOVE our Campers! Check out our featured Campers at Camp Bow Wow Bentonville. These pups love to play all day in our fun, safe and social environment, and receive lots of love and attention from our Certified Camp Counselors® whether they're in for day care or boarding.
February 2023 Camper of the Month

Bruce

Bruce is recent to join us. He is a sweet but nervous boy that was found roaming the streets. He is up to date on all vaccines and is neutered. He is friendly with other dogs in a vet setting but we are unsure how he would do with cats or kids. The vet believes that he is anywhere from 1 to 2 years old. He is available for adoption through Empack Rescue for $80.

January 2023 Camper of the Month

Deep Dish

Deep Dish is a sweet girl who loves to play with other dogs and get love from her counselors. She is fully vaccinated and spayed and does well in a group play setting. We are unsure how she is with cats and kids but with her high energy older kids may be best. She is around 2 years old and has been in rescue for 100 days. She is available for adoption through Taysia Blue Rescue for $100.

December 2022 Camper of the Month

Charlotte

Charlotte is a very shy girl who takes a minute to warm up, but when she does, she is very sweet. She is not very active in a group environment but gets along with other dogs. She would do well in a home with a dog that has a calmer demeaner. She is fully vetted and spayed and up for adoption through Dogs Adoption Network for$175.

November 2022 Camper of the Month

Blue

Blue is an easy-going boy who is up for anything. He is fantastic with other dogs and people. He would do best in a home without children or with older children. He does require a fenced yard to explore! Blue is fully vetted and neutered and available for adoption through EmPack Rescue, adoption fee pending.

June 2020 Camper of the Month

Tank & Flower

Congrats to Tank & Flower! Our two rescues pitties from HOPE Humane Socitey in Fort Smith. These two kiddos had a really rough start to life but have since turned their lives completely around. Tank loves TOYS! This 2-year-old chocolate boy loves to play. And sweet Flower loves to snuggle and get hugs from everyone. Both still have a long way to go with gaining weight and learning some manners but that's ok. We are so happy we were able to help these two furkids out and give them a new beginning at life. Congrats Tank & Flower!

May 2020 Camper of the Month

Basil Mae

Congrats to Basil Mae!! This sweet girl is a one and half-year-old Siberian Husky and she is an absolute dream. Basil is always playful to everyone and loves receiving pets and attention from our Camp Counselors and with her fluffy white coat who wouldn't want some snuggles from her. She is such a fun-loving pup to be around and is somewhat of a class clown. You know you're going to have a great day when you get to spend it with Basil Mae.

April 2020 Camper of the Month

Bodie

Bodie is a 3-year-old Giant Schnauzer who loves water! If there is a bucket or a pool he's in it. This big guy loves to play and play and is so funny to watch. He has the most distinguished beard and one very cute ear that flops over to the side. Way to Go Bodie!!

March 2020 Camper of the Month

Ellie

Age: 11 Months Old
Breed: French Bulldog

Congrats to Ellie!!

Ellie is an 11 month old French Bulldog and is better known at Camp as Ellie "Potato". This little whirlwind is so much fun to be around. She is always so excited to come to Camp and knows exactly where to get all the love and playtime. Potato has the best smile and gets along with everyone. We absolutely LOVE having Potato here with us.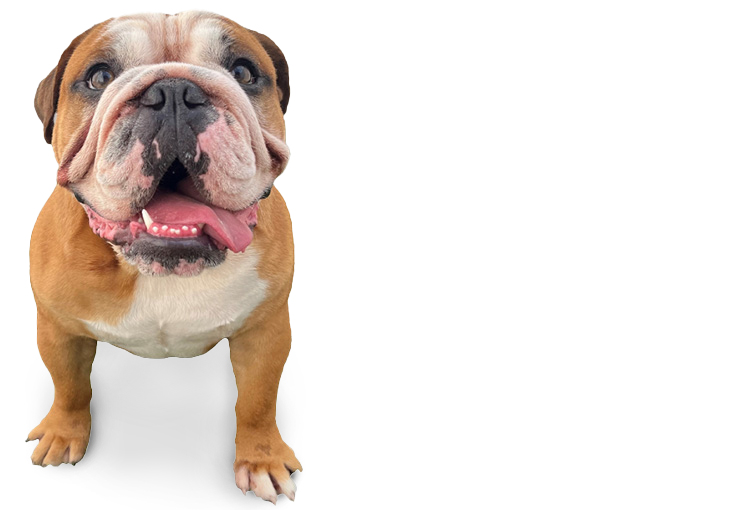 Ready to


Romp. Wag. Play?