Pittsburgh North

We Love Our Campers
Featured Campers
We LOVE our Campers! Check out our featured Campers at Camp Bow Wow Pittsburgh North. These pups love to play all day in our fun, safe and social environment, and receive lots of love and attention from our Certified Camp Counselors® whether they're in for day care or boarding.
September 2023 Member of the Month

Mabel

This beautiful girl is Mabel!  She is a one year old pittie who has just started coming to camp in June but has instantly captured all of the counsellor's hearts!  She may be small, but she had endless energy wrestling around with the bigger dogs multiple times a week.  When she comes into camp, she very politely puts her paws on the counter and waits very patiently to be taken back to the yard to see her friends! She had very good manners and we love her very much!

September 2023 Camper of the Month

Ludo

Ludo is a 10 year old lab mix who comes to camp to board a few times a year!  He is definitely a people dog, his favorite counsellor is Emily, she always makes sure to give Ludo extra love and attention when he is here.  He even starts to yell for her when he hears her voice!  He enjoys belly rubs the most and is a nibbler when giving out kisses!  Ludo always makes sure to keep the dogs in the yard in line when he is here.  We always look forward to seeing him for his boarding stays!

August 2023 Counselor of the Month

Kellee

Kellee is one of the hardest working people we have ever seen. We genuinely can't find a single flaw about her. She shows up on time, never takes a break, is great with the dogs and employees - everything we could ever ask for in a camp counselor. She has another full time job and works here on weekends, 7 days a week! Her determination and work ethic is a model of how all employees should be. Some of her favorite dogs at camp are Libby, JD, Delta, and Rogue.

December 2022 Camper of the Month

Bella

Bella is very picky about who she gives her love too but when she warms up to you she gives you all the love a little chihuahua! She has a singing voice just as good as any husky and she uses it to show her favorite counselor Matt how much she loves him! She really enjoys giving Matt lots of kisses and if he or anyone stops petting her she's sure to use her little paw to pull your hand back! We enjoy having sweet Bella at camp and look forward to every board!!

December 2022 Member of the Month

Steel

Steel is our December member of the month. He has been coming to camp since March of 2019 and is a camp favorite. He is quite the ladies man and everyone looks forward to seeing him. He loves all the attention he gets and let's you know he's there by nudging your back or pawing at your leg. He loves playing with Dakota and Ella. His favorite place to be is sitting at the top of the stairs and watching the yard like a playground monitor and making sure everyone behaves. Steel is a pleasure to have at camp and his smile proves it ??

September 2022 Camper of the Month

Mac

Mac the eight month old doodle puppy started coming to Camp in May! In the yards, we call him Little Mac- not to be confused with Big Mac and Mac Attack! Little Mac hangs out in the small dog yard, and he never stops playing! Well, maybe he'll take a break to get some love from the counselor. Okay, he'll definitely do that, but just for a minute so he can get right back to playing! Mac comes and plays his entire day all up until he gets picked up- and he'll hop down the hall like a little goat all the way to lobby! Mac is such a great addition to our pack!

September 2022 Member of the Month

Brewski & Falcon

Brewski and Falcon are our members of the month! Brewski is a mountain cur who has been coming to Camp for four years, and his brother Falcon is a schnauzer mix that joined his family last summer! Brewski announces their arrival at Camp every time they come in, and then Brewski plays with our big dogs while Falcon plays with our small dogs. Falcon is a cuddler, and you can often find him curled up on the bridge with his best friends Hester and Harley. Quite the ladies man! Brewski likes to snooze, but when he plays, he PLAYS. When it's time to go home, the two of them barge through the door and Brewski hops straight up on to the counter to say goodbye to the front desk counselor. We love having Brewski and Falcon here at Camp!

August 2022 Camper of the Month

Coco

Coco is an almost one year old lab mix who has been coming to Camp since the spring. She romps around with our small Campers and is the life of Camp when she sleeps over! Coco never stops playing when she's at Camp, so she loves when she gets to spend the night. She doesn't just play with the pups, she loves getting some much deserved love from the counselors in the yards! We love having Coco around!

August 2022 Member of the Month

Ellie

Ellie is a one year old Aruban Island Dog who has been coming to Camp since last spring. Despite her small size, Ellie is full of spunk! No fence is too high for her, and she loves to remind us of that by patrolling the small and tea cup yards perched on the wall. When she first started coming to Camp, we'd find her own the loose after hopping the gate out of the yard, but now she saves her shenanigans for the new employees! Ellie is a funny little girl who truly knows what Camp is all about!

July 2022 Camper of the Month

Nebo

Nebo is a six month old cane corso puppy who couldn't love Camp more! When she started back in the spring time, Nebo was the life of the party in our small dog yard. Being a cane corso, she didn't spend too long back there! Nebo couldn't be a more perfect fit in our big dog yards. She plays with anyone and anything, and don't even get us started on when the pools are out! Nebo plays the whole day away and half the time is sleeping before she even goes home! Nebo has wiggled her way into each and every one of our hearts and we are so happy to have her here!

July 2022 Member of the Month

Blaiz

Blaiz is a 5 year old husky who has been a member with us for a while now! Blaiz "you can't catch me" husky never fails to spice up the play yards! His favorite thing to do is to actively do the opposite of what we want him to do. When it's time to leave, Blaiz decides that he's not done playing, and we play chase in the yard. Blaiz loves to play with his friends, but he LOVES laying in the sun (even though he's a fluffy husky) and flopping over onto his back for some belly rubs. Blaiz is a one of a kind guy and everyday with him is a good day!

June 2022 Counselor of the Month

Tracey

We are excited to say that Tracey Hawk is our Employee for the month of June. Tracey is the keystone of our North Hills camp. She is always helping others, training new staff and going above and beyond, all with a smile on her face. Our clients love Tracey. They are always reaching out to her with funny stories, pictures, and videos. If a dog needs a little extra TLC, Tracey is right there to be sure the dog gets whatever is needed. If she sees a dog is not eating, she will hand feed the dog. Our staff call her the dog whisperer since there are dogs that will do things for Tracey that no one else can get them to do.

June 2022 Member of the Month

Bandit

Bandit is a seven year old shaggy sheltie mix who has been coming to play at Camp for two years. Bandit comes into Camp expecting the royalty treatment, and that's exactly what he gets (and deserves)! He crawls right into the front desk worker's lap before he makes his way down to our small dog play yard. Once he's there, he takes up residency in his cot. Every small camper knows that that's Bandit's spot, but he likes to share his snooze spot with his friends from time to time. Bandit is not shy about asking for pets, and we are more than happy to supply! Our day is made when Bandit walks through the front door!

June 2022 Camper of the Month

Peanut

Peanut the pittie will be two this summer and has been coming to Camp since last fall. Peanut is Camp's residential friend: there isn't a dog that Peanut won't play with! Peanut charges into the big dog play yard and plays the day away every time he's at Camp. Along with all of his pup pals, Peanut is loved by every single counselor at Camp. How could you not love those adorable ears? Between all of us, Peanut receives so much love when he's here with us, and we have so much more to give him. We know it's going to be a good day when Peanut zooms into the play yard!

May 2022 Counselor of the Month

Kira

We are happy to say May's Camp Counselor of the month is Kira. Kira has been with camp for 3 and half years and enjoys being able to see all her favorite campers (Reagan, Ava, Fritz, and more) after a long day of nursing classes. She says that working at camp has been a great job for her while in school. Kira also has two pets of her own at home named Jax and Lola. One thing that many people don't known about Kira is that she is a pro bowler and enjoys beating her boyfriends in game when she has some free time.

May 2022 Camper of the Month

Murray & Pita

Murray and Pita are one of camps most well-known dynamic duo. Murray started at camp back in April of 2021 and was a weekly visitor since then. He recently got his new sister Pita who has quickly won over everyone in the building. Murray loves to run and play with everyone and is known for his hops! Pita warmed up just a quick and had recently shown us what her happy dance is and that has to be the cutest thing we've ever seen. Murray and Pita are campers who play with anyone in daycare. Pita had a few favorites that include Finley, Babs, and Ellie. We have really enjoyed having both pups here at camp and cannot wait to see what fun memories we can continue to make!

May 2022 Member of the Month

Smitty

Smitty is a 1 ½ year old Golden Doodle who started coming to camp May of 2021 and quickly became a member. He is an all star camper and is always so happy and excited to walk through the door. Smitty is a pup who is just happy to get pets and attention but his favorite days are when his Friends Jack and Gatlan are here! Smitty is such a sweet boy who has definitely stolen the hearts of many counselors here, but Sarah and Xena seem to be his favorites. Smitty loves to give hugs and kisses to us when he is in daycare. His favorite time is when we get our pools out and he can play in them and eat the hose when we refill them. We have loved getting to know Smitty over the last year and look forward to many new memories we can make with him!

April 2022 Counselor of the Month

Jayacia

We are excited to announce that Javacia Rowe is April's Camp Counselor of the month! Jay started working at our Pittsburgh North location a few months ago and has nothing but impressed up since! She is an all-around hard worker. She helps where needed, for example when a newer employee doesn't know a dog she helps, or when someone is unsure of a task she does not hesitate to show them. She is always asking good solid questions about the dogs or camp procedures. Jay has made many close connections with our campers, but Harley is by far her favorite and we think Harley feels the same way about Jay! Some of her other favorite dogs include Steel, Falcon, Otto, and Kit Kat! Jay does not have any dogs of her own, but she does have 2 cats at home named Catsanova and Nadia. Jay's favorite thing about working at Camp is how much time we spend with the dogs, she says she learns something new here every day, and she really likes her fellow staff members! Before she came to Camp she worked as a vet and served our country for 16 years in the Army reserve. Jay truly loves Camp and all of our campers, and we are so lucky to have her in our Bow Wow family! Thank you for all your hard work and dedication to us and the pups!

April 2022 Member of the Month

Macie

Macie is a 3-year-old Golden Retriever who started camp as a tiny puppy back in 2019. We have watched her grow into the beautiful dog she is today and have made many memories with her over the years. Macie is a mellow soul who just wants love and attention from everyone she meets. Most days Macie can be caught napping in the sun, but she loves to play when her best friends Nala and Ricky are here. Macie is known around camp for the ways she falls asleep. We have caught her napping with half her body on the bridge and half off or with her tail in her mouth on her back. This girl is so goofy we always know we are in for lots of hugs and kisses when we see her walk in.

April 2022 Camper of the Month

Drago

Drago is a 4-year-old Siberian Husky who started coming to camp in 2018. He is the sweetest boy in the world, when he comes in after saying hi to all his puppy friends he immediately runs over to the counselor for some kisses. Drago is a very active boy who loves to play with all dogs, but other huskies are his favorite! He loves playing with Bodhi and Blaiz the best! We have loved watching Drago grow up over the years, we have even spent a few birthdays with him! Obviously, snow days are his favorite, and we love watching him start the zoomie train out in the yards! Drago is a good boy, and we cannot wait to see what more memories we can make with him!

March 2022 Counselor of the Month

Mike Shaffer

We are so excited to announce that Mike Shaffer has been awarded the Camp Counselor of the Month for March! Mike has worked at our East location for 2 years and our camp has gone nowhere but up ever since. He has never called off a shift and always does what is expected of him. He goes above and beyond before his shift is over, and always comes into work with a clear and open mind. Mike has a bond with the campers like no other, and being around so many dogs that love him so much is the reason why he has such a passion for this job. One of our campers, Lila, is so attached to Mike that her owner said that if she ever had to give her away, Mike would be the one who got her. It's so amazing to see the relationships he builds with dogs and how attached they have gotten to him. That is the type of bond we want our counselors to have with our campers. Mike has a pup of his own, Molly, a German Shepherd/Golden Retriever mix who is attached to him at the hip. Some interesting things about Mike is that outside of work not only does he make his own music, he also installs swimming pools! Mike truly has put such a positive influence on our camp and we couldn't be more thankful that we have him as a part of our Camp Bow Wow family.

March 2022 Member of the Month

Barbara

Barbara is a 1 ½ year old Australian Shepard that has been running camp since the day she entered. Barbara has so much energy and loves to play with any dog or human that will give her the time of day. She loves to roll in puddles and play in the water buckets too! Barbara has a lot of friends, but Remi, Bailey, and Tucker are some of her favorites. When she isn't running and doing zoomies with the other pups, she loves to get scratches from her favorite counselors Xena and Tracey. We have loved watching Barbara grow up over her time here at camp and cannot wait to see what more memories we can make with her!

March 2022 Camper of the Month

Josie & Rosie

Josie and Rosie are two pittie sisters who cannot contain themselves when they enter camp! They started here as grooming pups with Christina and then started coming to camp shortly after. We knew with these crazy girls from day one that they were going to be camp all-stars, so their parents made them members. When the girls get here, they immediately run outside and so laps with their friends around the yard for a solid hour before they even say hi to their human friends. Archie, Kyla, and Zoey are some of their favorite chase partners. Rosie doesn't care who she's chasing as long as Josie is right there with her. We love seeing these two girls every week and getting all the love from them!

February 2022 Camper of the Month

Bolt

Bolt is a two going on 3-year-old Pitbull mix with Labrador retriever and Chow Chow in him! He is such a handsome boy, and loves to show off his puppy dog eyes to any counselor he sees to get some love and attention. Bolt joined us at camp just over 2 months ago, and has become such a popular pup in the large play area! He has made so many friends, but his very best friend is definitely Drago, a German shepherd. They both love to run outside and chase each other around the bridge, hardly taking a breath! When Bolt first started coming to camp, he was on the shyer side but Drago and his other friends surely put that to an end! We love Bolt and are so thankful he has become a part of our Camp Bow Wow pack!

February 2022 Counselor of the Month

Kim

Kim is a cornerstone of our Highland Park location. Her devotion and dedication are second to none. Her ability to connect to both our clients and campers alike is remarkable. Her passion is shown through her care and attentiveness to all of our campers. Our campers know her by name and abound with delight when they know she'll be in! She is the loving mom to her pets Penny, Ninnie and Nellie. An exceptional trainer, Kim has helped create an environment of understanding and goes out of her way to help her clients with their needs. Kim's goal is to become an evaluator for the AKC Star Puppy and K-9 Good Citizen programs. Kim has enjoyed working with and helping dogs. Prior to working at Camp Bow Wow, she rescued dogs off the streets while living in Arizona. A brilliant mother, outstanding trainer, and supportive colleague; her professional and unwavering spirit has helped Highland Park become the success it is today!

February 2022 Member of the Month

Luke

Luke is a 1.5-year-old golden retriever who is all smiles while he is here at camp! Luke started coming when he was just a little pup back in 2020 when his mom noticed that he was a perfect match for our membership. Luke runs and plays from sunup to sundown when he is here. Some people say he looks like a golden blur on the cameras because of how fast he runs around the yard. Luke is a very enthusiastic dog when he comes into camp, he is learning his manners though and has come a very long way. He loves every person and dog he meets but he especially loves when his friends Otis, Smitty, and Betty Lou are here and when he gets to see Matt and Xena his favorite counselors. We have loved watching Luke grow up into the wonderful pup he is and cannot wait to make more memories with him!

February 2022 Camper of the Month

Ollie

Ollie is around 15 years old and is a cocker spaniel. He is a special guy here at camp, who started coming to play in 2019 and quickly stole every counselor's heart in the building. He is always such a love bug when he is here with all the hugs and kisses, he gives out. You can typically find him with our small campers leaning on his humans or contemplating the world in our outside yard. Ollie is a big fan of coming to camp and seeing everyone, but his favorites include Tracey, Matt, Xena and of course his groomer Christina. We have loved getting to know Ollie and his mom over the time and look forward to seeing him at his next sleepover!

January 2022 Counselor of the Month

Amanda

Amanda is an absolute excellent camp counselor! She has 3 dogs of her own, including two Cane Corsos and an Australian Shepherd. Dogs are not only her first love, but a huge passion of hers. She is currently pursuing a dog training certificate and is working on her masters in dog training! Within the next year, Amanda will soon be another addition to our training program here at camp. She also does a multitude of different events and shows with her two corsos, Ebony and Vixen, who have won quite a few titles in their time! Amanda is one of our most driven employees, and just recently got promoted to shift supervisor! She is amazing with behavior modification, and is so good with helping each and every dog to get comfortable here at camp. She is so devoted to her job and gives the dogs her utmost trust and patience. We couldn't ask for much more than Amanda, as she already has everything we could ask for and more!

January 2022 Member of the Month

Oreo

Oreo is a lab mix who has been coming to camp since 2018. This little guy is known for giving some of the best ear kisses and hugs. Oreo spends most days at camp lounging on the bridge or catching a nice suntan in our outside yard. When he isn't catching z's, he loves cuddling up with his favorite counselor Kara. Oreo is such a sweet boy, when he stays overnight with us everyone always goes in his cabin before we leave to get some of that extra special love of his. We have loved watching Oreo grow up over the years and cannot wait to make more memories with him here at camp!

January 2022 Camper of the Month

Gracie

Gracie is an 8-year-old Pitbull who has been "babysitting" here at camp since 2014! Gracie is a sweet love bug who everyone gets excited to see here at camp. When she is not busy working here, she loves to run around with the puppies in big dogs, which is how we gave her the title "babysitter". Gracie loves to snuggle up to anyone who will give her attention, but she loves it the most when Kara and Marlin are here to play and snuggle with her. Gracie has given us many happy memories over her years here at camp and we cannot wait to see what ones the future has in store!

December 2021 Camper of the Month

Sven

Sven is a 1 ½ year old boxer who started coming to camp this year and from the start was an all-star camper! Sven is the type of pup who just loves to be alive. He takes every day and lives it to the fullest. He comes into camp with your typical boxer "wiggle butt" and after a little excitement with his front desk friends he runs eagerly back to the yard to then see all of his canine friends. Sven likes to play with a lot of pups, but his favorites are Henry, Bentley, and Gatlan. We love getting to know this guy and look forward to spending more time with him here!

December 2021 Member of the Month

Bodhi

Bodhi is a year-old Siberian Husky who has some of the most energy we have ever seen here at camp. Bodhi comes in and goes leaping down the hallway to the yards like a little bunny. When he gets back there, he plays with anyone and everyone who will give him the time of day. He is best friends with Oreo, Blaiz, and Bandit. When these boys get together, we know it's going to be a fun filled day full of lots of laughs. When Bodhi is done playing for the day (rare time) he loves to snuggle up with his favorite counselors Cheyenne and Xena. We have loved watching Bodhi grow up over the past year and cannot wait to see what more memories we can make with him!

December 2021 Counselor of the Month

Catey Lee

Catey is a delight to have at camp. She hopes to one day have a German Shepherd of her own, in the meantime, she acts as the cool aunt to all the dogs at camp. She even bakes special cookies for the campers. If you're dog comes to the Southwest Camp (Greentree), Catey most likely has told you something fun your dog did at camp that day. Catey truly appreciates her co-workers, but mostly she loves that the customers trust us with the beautiful furry souls. She spends her day making sure these dogs love coming to camp as much as she loves having them at camp. Catey has too many favorite campers to list. Included in her goals are to own a Dog Cafe and become a Dog Trainer.

October 2021 Member of the Month

Cooper Schneider

Cooper is an almost 2-year-old Red Lab who started camp earlier this year. Cooper was a natural born camper and quickly became a member here! This sweet pup is always looking to make friends both human and canine. He always comes in ready to go and then after a while of playing will snuggle up and get love from his favorite people. One of Coopers most well-known traits are his zoomies he gets when his best friends Chief, Harold, or Oreo come into camp. Cooper recently started bringing his brother Nash to camp. These two are such goof balls together, they always get the counselors laughing up a storm. We have loved having Cooper here with us and cannot wait to make more memories with him and now Nash!

October 2021 Camper of the Month

Ranger Coon

Ranger is a 4-year-old Yellow Lab who started stealing hearts at camp almost 2 years ago. Ranger is a very vocal and excitable boy who comes into camp announcing himself and letting us know he is ready for the day. Ranger loves everyone he meets here but his favorite counselors are Xena and Sydney! Ranger's favorite past time is getting ear and belly scratches from everyone. He loves it when his friends Artie and Kimber are here. Ranger is very well known for his excited leaps he does for pretty much the first hour he is in the yards romping. We love seeing this guy every week and look forward to making more memories!

September 2021 Member of the Month

Ellie

Ellie is an 8-month-old Arubian Cunucu who started coming to camp who started coming to camp earlier this year. Her breed is very high energy, so her mom knew this was going to be a good fit for her. Ellie plays in our small dog yard and is one of the most agile campers we have. She can jump almost to our shoulders! Ellie is very playful with anyone here at camp, but her best friends are Barbara, Bailey, and Babs. Ellie is such a sweet girl who loves to cuddle. When she gets here in the morning, she loves to give us hugs and do her little grumbles. We love having Ellie here at camp and cannot wait to make more memories with her!

September 2021 Camper of the Month

Nash

Nash is a 3-year-old Long haired Dachshund who started coming to camp back in the beginning of 2019. He quickly stole everyone's hearts and became a crowd favorite. Nash hangs out in our teacup yard with his friends Penny, Oakley, and Kerning. Nash loves almost every other camper he meets, and we always let his mom know how much of an angel this little guys really is. Nash's favorite past times include sitting on your lap and getting lots of snuggle and howling with the littles. We love how often we get to see this guy and cannot wait to see what memories we will have with him!

August 2021 Member of the Month

Louie

Louie is a 6 and ½ year old Coonhound who started stealing hearts here in June of last year. He was a pro at daycare having gone to daycare on a regular basis in Florida where him and his family moved here from. Louie has had a lot of exciting stuff happen to him over the last year including a new human brother! Louie comes racing into camp announcing himself as soon as the desk person makes eye contact. He is known for his gentle kisses and his soft "woos" in the play yards. Most hounds have no volume button, but Louie does and knows how cute he is when he does it. We always know it's going to be a good day when Louie comes in and starts our choir up.

August 2021 Camper of the Month

Tyrion

Tyrion is a 3-year-old boxer pit mix who is the goofiest dog at camp. He always comes in so wiggly and ready for action. Tyrion is a camp heart throb but absolutely loves his counselor, Emily. Tyrion has been coming to camp Since March of 2019 and we have loved every visit! His best friends are Wesley, Otto, and Deacon. When this group of guys get together, we know it is going to be a party! We have loved watching Tyrion grow up and learning about him!

July 2021 Member of the Month

Sapp & Pisa

Sapphire and Pisa are two greyhounds who are some of our relaxed members we have. Pisa will be 4 years old this month and Sapphire is about 8 years old. These two lovely ladies are well known around camp for being sweet and mellow. When they come in, they are so excited running back to the yards and then they get their midafternoon sunbathing in. Sapphire normally just hangs out and Pisa is happy to do so with her, except when she gets her zoomies in. Her ears pop forward and then the running begins. She normally gets a crazy look from Sapphire like "what on earth are you doing weirdo" but we all know that she loves her all the same. We love the time we get with the girls and cannot wait to have more memories in the future!

July 2021 Camper of the Month

Chief

Chief is an almost 2-year-old red lab who stole the hearts of everyone at camp with his first visit back in August of last year. This big guy is not only known for that handsome smile, but also for his mellow and loving personality. Chief is happy just to get butt scratches and love as he is to play with any dog who walks through the gates. He has a few best friends here that include Harold, Gatlan, and Cooper! When these three re together they will with be running around in the outside yard or laying on the floor chewing on each other. Chief is definitely an old soul, and we couldn't be happier to spend frequent daycare days with him!

June 2021 Member of the Month

Tucker and Lily

Tucker a 2-year-old Goldendoodle and his little sister Lilly a 1-year-old Pitt Bull both love camp so much! Lilly comes to play with all of her doggie friends and Tucker comes to play with Lilly and get LOTS of human attention. Tucker started camp in December of 2019 and his parents quickly realized that camp was a must for this crazy puppy. About a year later Tucker got his best friend and partner in crime Lilly. These two quickly became a known as a dynamic duo and stole the hearts of all of our counselors. Tuckers favorite past time here when he is not bugging Lilly is playing fetch with his favorite counselor Xena and giving lots of hugs to her! Lilly is perfectly content romping around for hours but when she gets sleepy so loves cuddling up with her favorite counselor Marlin. We have loved the opportunity to watch these two grow up and cannot wait to spend more time and build great memories with these two crazies!

June 2021 Camper of the Month

Penelope

Penelope, or as she is known at camp "Little P", is one of our most spunky teacup campers. She started coming to camp back in August of last year and has been "boss" of the teacup yard ever since! She is always so excited to get here and runs as fast as she can all the way to the yard and barks and jump at the door anxiously waiting for us to open it. Her best friends are Piper and Oakley and when these three-gal pals get together the teacup yard is a party! We have loved watching Little P grow up and cannot wait to have more happy memories here at camp with her!

May 2021 Member of the Month

Zeus

Zeus is a 1.5-year-old Australian Shepard that quickly won the hearts of many counselors here at camp. He started camp at the beginning of the year and was a little hesitant at first but as soon as he made some good friends here that was all it took. His parents and camp staff quickly realized that camp would have to be a weekly thing! Zeus love to play games of chase with anyone that will give him the time of day, but his best friends are Mia and Zoe. When these pups get together, we know we are in for an awesome day! Outside playing at camp Zeus love to learn so his parents have been working very hard at teaching him new commands. We love to see our campers grow in camp and out. We cannot wait to see what other memories we can make with this handsome pup!

May 2021 Camper of the Month

Keke

Keke is a 6-month-old Puggle who started camp recently and has become an all-star camper! She is known as you can see above for, the love of running around with items (blankets, toys, and bully sticks) in her mouth. Keke is also a zoomie expert, she loves to get the teacup yard moving with them every morning and every time a new friend comes into her play area. Keke love just about any living thing, but her best friends include Penny, Oakley, and Piper. We love when this little pup comes to camp and gets a party going in our teacup yard!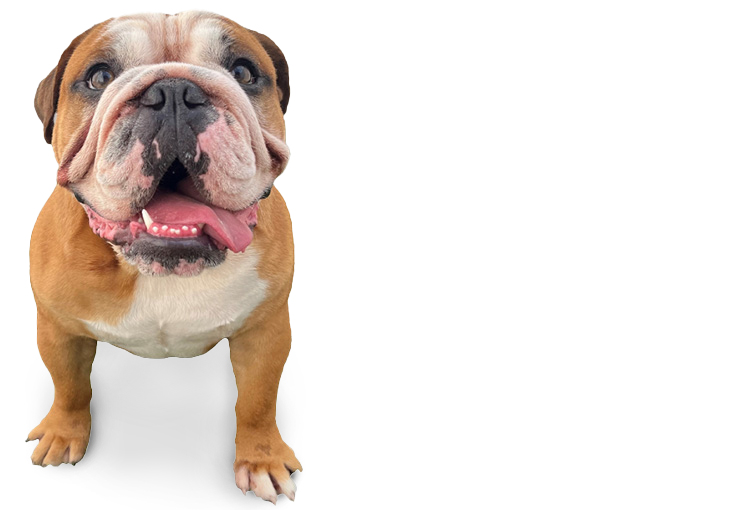 Ready to


Romp. Wag. Play?